1980-81
1) SAM VINCENT - LANSING EASTERN
2) Eric Turner, Flint Central
3) Jeff Heide, Lake Odessa Lakewood
4) Leslie Rockymore, Detroit Southwestern
5) Percy Cooper, Highland Park
6) Greg Wendt, Detroit Catholic Central
7) Greg Washington, Detroit Western
8) Mark Simon, Stephenson
9) Troy Mattson, Ishpeming Westwood
10) Anthony Grier, Detroit East Catholic
11) Desi McClung, Saginaw
1981-82
1) ROBERT HENDERSON, LANSING EASTERN
2) Patrick Ford, Detroit Cass Tech
3) Mark Harris, Flint Central
4) Renardo Brown, Highland Park
5) Paul Jokisch, Birmingham Brother Rice
6)
7)
8)
9)
10)
1982-83
1) ANTOINE JOUBERT, DETROIT SOUTHWESTERN
2) Garde Thompson, East Grand Rapids
3) Darryl Johnson, Flint Central
4) Dan Majerle, Traverse City
5) Quincy Turner, Benton Harbor
6)
7)
8)
9)
10)
1983-84
1) DEMETREUS GORE, DETROIT CHADSEY
2) Gary Thompkins, Jackson
3) Jeff Grayer, Flint Northwestern
4) Michael Sims, Grand Rapids Union
5) Glynn Blackwell, Highland Park
6) Clarence Jones, Detroit Southwestern
7)
8)
9)
10)
1984-85
1) GLEN RICE, FLINT NORTHWESTERN - 449
2) Roy Marble, Flint Beecher - 239
3) Mark Brown, Hastings - 275
4) Terence Greene, Flint Central - 167
5) B.J. Armstrong, Birmingham Brother Rice - 166
6) John McIntyre, Detroit Catholic Central - 156
7) Loy Vaught, East Kentwood - 141
8) Negele Knight, Detroit St. Martin dePorres - 109
9) John Paul Oosterbaan, Kalamazoo Christian - 97
10) Mark Hughes, Muskegon Reeths-Puffer - 83
1985-86
1) TERRY MILLS, ROMULUS
2) Anthony Pendleton, Flint Northwestern
3) Willie Burton, Detroit St. Martin dePorres
4) Derrick Coleman, Detroit Northern
5) Nathan Buntin, Detroit Murray-Wright
6) Bill Wood, Saginaw Valley Lutheran
7) Steve Scheffler, Grand Rapids Forest Hills Northern
8) Todd Bayle, Walkerville
9) Leonard Thomas, Mt. Clemens
10) Tarence Wheeler, Detroit Southwestern

1986-87
1) MARK MACON, SAGINAW BUENA VISTA - 726
2) Anderson Hunt, Detroit Southwestern - 162
3) Todd Jenks, Haslett - 139
4) Tony Warren, Battle Creek Central - 98
5) Daryl Reed, Saginaw - 93
6) Anthony Buford, Flint Central
7) Mike Davenport, Grand Rapids Ottawa Hills
8) Steve Smith, Detroit Pershing
9) Lyman DePriest, Highland Park
1987-88
1) MATT STEIGENGA, GRAND RAPIDS SOUTH CHRISTIAN
2) Mike Peplowski, Warren DeLaSalle
3) Parish Hickman, Redford Bishop Borgess
Calvin Winfield, Kalamazoo Central
5) David Holmes, Jackson
6) Jon Zulauf, Port Huron
7) James Hunter, Detroit Southwestern
8) Steve Hall, Detroit Cass Tech
9) Mark Montgomery, Southgate Aquinas
Jay Zulauf, Port Huron
1988-89
1) MICHAEL TALLEY, DETROIT COOLEY - 563
2) Sander Scott, Northport - 305
3) Dwayne Stephens, Ferndale - 149
4) Dennis Kann, Mio - 133
5) Jeff Warren, Litchfield - 121
6) Lou Dawkins, Saginaw - 119
7) Ray Schneider, Mt. Pleasant - 108
8) Tony Tolbert, Detroit St. Martin dePorres - 97
9) Sam Mitchell, Kalamazoo Loy Norrix - 67
10) Matt Hofkamp, Ionia - 37
1989-90
1) ANTHONY MILLER, BENTON HARBOR - 307
2) Marc White, Battle Creek Central - 248
3) Chad Allen, Traverse City - 156
4) Shawn Respect, Redford Bishop Borgess - 138
5) Lorenzo Orr, Detroit Pershing - 124
6) Jason Bossard, Charlotte - 101
7) Kareem Washington, Lansing Sexton - 68
8) Andre Jackson, Flint Northwestern - 62
9) Toriano Smith, Saginaw Buena Vista - 58
10) Mark Williams, Otsego - 47
1990-91
1) CHRIS WEBBER, DETROIT COUNTRY DAY - 693
2) Jalen Rose, Detroit Southwestern - 216
3) Todd Lindeman, Iron Mountain North Dickinson - 91
4) Jesse Drain, Saginaw - 81
5) David Washington, Albion - 70
6) Jake Baker, Plymouth Salem - 43
7) Voshon Lenard, Detroit Southwestern - 35
8) Andy Poppink, Tecumseh - 32
9) Theron Wilson, Royal Oak Dondero - 16
10) Emmanuel Bibb, Detroit Denby - 14
1991-92
1) KENYON MURRAY, BATTLE CREEK CENTRAL - 432
2) Dugan Fife, Clarkston - 354
3) Joe Modderman, Allendale - 180
4) Matt Stuck, Manton - 153
5) Justin Jennings, Grand Rapids Central - 82
Steve Polonoski, Rockford - 82
7) Larry Bolden, Detroit Cody - 59
8) Leon Derricks, Flint Northwestern - 55
9) Amere May, South Haven - 50
10) Tom McGee, Pontiac Central - 47
11) Monter Glasper, Albion - 45
Paul Grant, Birmingham Brother Rice - 45
1992-93
1) JON GARAVAGLIA, SOUTHGATE AQUINAS - 426
2) Correy Childs, Benton Harbor - 363
3) Carlos Williams, Detroit Pershing - 270
4) Chris Crawford, Comstock - 180
5) Schedrick Murrell, Saginaw Buena Vista - 158
6) Ray Weathers, Jackson - 89
7) Greg Norman, Muskegon - 83
8) Judson Anderson, Flint Central - 63
9) Todd Burgan, Detroit Pershing - 61
10) Saddi Washington, Lansing Sexton - 57
11) Derrick Ziegler, Detroit Cody - 36
12) Sean Whitlock, Pontiac Northern - 32
1993-94
1) WILLIE MITCHELL, DETROIT PERSHING
2) Travis Conlan, SCS Lake Shore
3) Maurice Taylor, Detroit Henry Ford
4) Geno Carlisle, Grand Rapid Ottawa Hills
5) Antwann Jones, Lansing Sexton
6) Adam Jones, Dansville
7) James Head, Plymouth Salem
8) Antonio Granger, Detroit Denby
9) Russ DeSermia, Rochester
10) Maurice McCree, Detroit Mackenzie

1994-95
1) ROBERT TRAYLOR, DETROIT MURRAY-WRIGHT - 564
2) Antonio Smith, Flint Northern - 363
3) Albert White, Inkster - 322
4) Demetrius Van Syckle, Battle Creek Central - 208
5) Jason Klein, Grosse Ile - 192
6) Chadd Holmes, Ludington - 135
7) Dan Geoghegan, Dearborn Divine Child - 56
8) Morris Peterson, Flint Northwestern - 55
9) Julian Bonner, U-D Jesuit - 39
10) Leigh Kakaty, North Muskegon - 25
1995-96
1) WINFRED WALTON, DETROIT PERSHING, 6-8½, center - 579
2) Mateen Cleaves, Flint Northern, 6-2, guard - 566
3) Mike Chappell, Southfield, 6-8, forward - 185
4) Todd Schroetenboer, Grand Rapids South Christian, 6-7, center -183
5) Mike Burde, Newaygo, 6-6, Center - 154
6) Sylvester Dotson, Detroit Cooley, 6-8, forward - 121
7) Kerry Hartfield, Benton Harbor, 6-0½, guard - 118
8) Ron Banks, Lansing Sexton, 6-5, forward - 105
9) Rashad Phillips, Ferndale, 5-8, guard - 38
10) Kevin Kreger, Dearborn, 6-1, guard - 34

1996-97
1) SHANE BATTIER, DETROIT COUNTRY DAY, 6-6 forward - 896
2) Charlie Bell, Flint Southwestern Academy - 863
3) Lorenzo Guess, Wayne Memorial - 137
4) Greg LaPointe, Mt. Pleasant - 120
5) Greg Grays, Southfield-Lathrup - 74
6) Greg Stempin, Harper Woods Notre Dame - 73
7) Carlos Gill, Flint Northern - 61
8) Kylo Jones, Orchard Lake St. Mary - 55
9) Milo Stovall, Kalamazoo Central - 52
10) Jason Moorehead, Albion - 43
11) Josh Asselin, Caro - 26
12) Maurice McAfee, Saginaw Buena Vista - 12

1997-98
1) DANE FIFE, CLARKSTON - 724
2) Antonio Gates, Detroit Central - 232
3) Thomas Jackson, East Lansing - 165
4) Charles Kage, River Rouge - 121
5) Adam Anderson, Kent City - 98
6) DeeAndre Hulett, Saginaw Arthur Hill - 93
7) Delvar Barrett, Detroit Cooley - 89
8) Ryan Hiller, Manton - 87
9) Curtis McFall, Benton Harbor 69
10) Chris Young, Redford Detroit Catholic Central - 68

1998-99
1) JASON RICHARDSON, SAGINAW ARTHUR HILL, 6-6, forward - 741
2) LaVell Blanchard, Ann Arbor Pioneer, 6-7, forward - 631
3) Aloysius Anagonye, Detroit St. Martin dePorres, 6-8, center - 208
4) Brent Darby, River Rouge, 6-1, point guard - 191
5) T.J. Meerman, Coopersville, 6-2, forward - 136
6) J.R. Wallace, Muskegon Reeths-Puffer 6-0 point guard -117
7) Taylor Bro, Rockford, 6-7, center - 95
8) Willie Wallace, Flint Southwestern, 6-7, center - 60
9) Nick Moore, Redford Catholic Central, 6-1, point guard - 56
10) Kevin Lee, Lansing Everett, 6-0, point guard - 45

1999-00
1) MARCUS TAYLOR, LANSING WAVERLY - 932
2) Eugene Seals, Saginaw - 227
3) Maurice Searight, Orchard Lake St. Mary - 199
4) Ricky Paulding, Detroit Renaissance - 189
5) Chris Kaman, Wyoming Tri-unity Christian - 168
6) Tony Bowne, Hastings - 130
7) Desmon Farmer, Flint Northwestern - 78
8) Gerrit Brigitha, Niles - 60
9) James Thues, Detroit Martin Luther King - 38
10) Arthur Johnson, Detroit Pershing - 36
2000-01
1) KELVIN TORBERT, FLINT NORTHWESTERN - 773
2) JaQuan Hart, Flint Northern - 256
3) Ben Reed, Battle Creek Central - 149
4) Anthony Parker, Muskegon Mona Shores - 110
5) Nate Loehrke, Mattawan - 103
6) Ricky Morgan, Pontiac Northern - 95
7) Greg Jennings, Kalamazoo Central - 92
8) Cory Santee, Flint Southwestern - 67
9) Robert Strickland, Detroit Denby - 65
10) Chuck Bailey, Detroit Martin Luther King - 40

2001-02
1) PAUL DAVIS, ROCHESTER
2) Anthony Roberson, Saginaw
3) Lester Abram, Pontiac Northern
4) Zach Ingles, Greenville
5) Brian Snider, Cadillac
6) Matt Trannon, Flint Northern
7) Maurice Ager, Detroit Crockett
8) Chris Grimm, Brighton
9) Graham Brown, Mio
10) Ricardo Billings, Detroit Rogers
2002-03
1) DION HARRIS, DETROIT REDFORD, 6-4 guard - 555
2) Brandon Cotton, Detroit St. Martin dePorres, 6-0 guard - 503
3) Drew Naymick, North Muskegon, 6-10 center - 252
4) Brandon Bell, Flint Southwestern - 174
5) Olu Famutimi, Flint Northwestern - 137
6) Kyle Visser, Grand Rapids Forest Hills Central - 127
7) Dave Hoskins, Plymouth Salem - 91
8) Brandon Jenkins, Detroit Southeastern - 82
9) Vova Severovas, Birmingham Groves - 59
10) Ije Nwankwo, Detroit Country Day - 37
2003-04
1) DREW NEITZEL, WYOMING PARK - 908
2) Joseph Crawford, Detroit Renaissance - 380
3) Malik Hairston, Detroit Renaissance - 367
4) Marquise Gray, Flint Beecher - 292
5) Al Horford, Grand Ledge - 127
6) Brian Moten, Saginaw Arthur Hill - 99
7) Ron Coleman, Romulus - 96
8) Goran Suton, Lansing Everett - 88
9) Darryl Garrett, Detroit Denby - 72
10) Dan Waterstradt, Redford Detroit Catholic Central - 37
2004-05
1) WILSON CHANDLER, BENTON HARBOR - 890
2) Michael Bramos, Grosse Pointe North - 341
3) Zane Gay, Olivet - 325
4) Keith MacKenzie, Warren DeLaSalle - 300
5) Brandon Wolfe, Detroit Redford - 236
6) Zack Gibson, Grand Blanc - 232
7) Erik Kangas, DeWitt - 204
8) Jerret Smith, Romulus - 175
2005-06
1) DAVID KOOL, GRAND RAPIDS SOUTH CHRISTIAN - 931
2) Tom Herzog, Flint Powers Catholic - 360
3) DeShawn Sims, Detroit Pershing - 329
4) Johnathan Jones, Okemos - 207
5) Leon Freeman, Belleville - 186
6) Tory Jackson, Saginaw Buena Vista
7) K'Len Morris, Grand Blanc
8) Larry Wright, Saginaw
9) Tajuan Porter, Detroit Renaissance
10) Ramar Smith, Detroit Martin Luther King
2006-07 (Ballot reduced)
1) CORPERRYALE HARRIS, DETROIT REDFORD, 6-5, forward - 924
2) Darquavis "Dar" Tucker, Saginaw Arthur Hill, 6-5, forward - 900
3) Kalin Lucas, Orchard Lake St. Mary, 6-0, guard - 632
4) Durrell Summers, Redford Covenant Christian, 6-5, forward - 426
5) Laval-Lucas Perry, Flint Powers, 6-3, forward - 306
2007-08
1) BRAD REDFORD, FRANKENMUTH, 6-0, guard - 1,402
2) Draymond Green, Saginaw, 6-7, center - 1,245
3) Paul Williams, Detroit Renaissance, 6-3, forward - 547
4) Dominique Buckley, Romulus, 6-2, guard - 349
2008-09
1) DERRICK NIX, DETROIT PERSHING, 6-9, center - 1,726
2) Ben Simons, Cadillac, 6-9, forward - 1,638
3) Korey Vandussen, Zeeland East, 6-3, guard - 1,298
4) Dion Sims, Orchard Lake St. Mary, 6-6, forward - 1,027
5) Eso Akunne, Ann Arbor Gabriel Richard, 6-3, forward - 782
2009-10
1) KEITH APPLING, DETROIT PERSHING, 6-2, guard - 2,037
2) Trey Zeigler, Mt. Pleasant, 6-5, guard- 1,145
3) Ray McCallum, Jr., Detroit Country Day, 6-1, guard - 934
4) Maurice Jones, Saginaw Arthur Hill, 5-6, guard - 868
5) Devin Oliver, Kalamazoo Central, 6-7, forward - 470
6) Michael Talley III, Melvindale Academy of Business & Tech, 5-11, guard - 360
2010-11
1) DWAUN ANDERSON, SUTTONS BAY, 6-4, guard - 2,053
2) LaDontae Henton, Lansing Eastern, 6-7, forward - 1,746
3) Amir Williams, Detroit Country Day, 6-10, center - 1,429
4) Carlton Brundidge, Southfield, 6-1, guard - 1,334
5) Brandan Kearney, Detroit Southeastern, 6-5, guard - 1,240
2011-12
1) MATT COSTELLO, AUBURN BAY CITY WESTERN, 6-10, center - 2,232
2) Denzel Valentine, Lansing Sexton, 6-5, guard - 1,895
3) John Simons, Cadillac , 6-8, forward - 1,095
4) Connar Tava, Warren DeLaSalle, 6-5, forward - 607
5) Lloyd Neely, Detroit Crockett, 6-5, forward - 480
2012-13
1) MONTE MORRIS, FLINT BEECHER, 6-1 guard - 2,130
2) Derrick Walton, Jr., Harper Woods Chandler Park Academy, 6-1, guard - 2,086
3) James Young, Rochester, 6-6, forward - 2,030
4) Kahlil Felder, Detroit Pershing, 5-9, guard - 1,251
5) Dontel Highsmith, Dowagiac, 6-2, guard - 1,161
2013-14
1) DESHAWN THROWER, MUSKEGON, 6-1 guard - 1,952
2) Justin Tillman, Detroit Pershing, 6-8, forward - 1,743
3) Jalen Johnson, Ypsilanti, 6-9, forward - 1,351
4) Edmond Sumner, Birmingham Detroit Country Day, 6-4, guard - 1,090
5) Darrell Davis, Detroit Douglass, 6-2, guard - 821
For over 30 years, BCAM – the Basketball Coaches Association of Michigan, in association with the Detroit Free Press, has sponsored the Hal Schram Mr. Basketball award, given to the state's top prep senior. Lansing Eastern's Sam Vincent was selected in the spring of 1981 as the recipient of the first award.

The Retro Mr. Basketball project, launched in 2010, will span ten seasons. The program is designed to honor the state's top senior prep basketball players from the years 1920 through 1980, In 2010, BCAM recognized seniors from 1920, 1930, 1940, 1950, 1960, 1970 and 1980. This year, the organization honors seniors from 1923, 1933, 1943, 1953, 1963 and 1973. In 2019, the list will be complete, with the total number of "Mr. Basketball" award winners numbering 100.

As with the modern-day honor, the goal is to focus on high school careers. Hence, information pulled from All-State, All-Area, All Conference and All-Tournament teams is used to guide the committee as they select nominees for the award.

While gathering statistical information on players from the 1920s and 1930s presents challenges, BCAM did not want to avoid honoring athletes from the era when the center jump was a dominate feature of the game.

"BCAM has considered trying to go back to years previous to 1981 and coming up with players that would have been named Mr. Basketball if there was such an award at the time," notes BCAM executive director Tom Hursey. "The Retro Mr. Basketball project accomplishes this goal. The basketball fans of Michigan will enjoy going back in time and either agreeing with or finding fault with our committee's winners. Either way it will be fun reminiscing about days gone by."

(Winners of the "Retro" Mr. Basketball award are listed first in ALL CAPS, followed in alphabetical order by those selected by the committee as nominees.)

1979-80
TIM MCCORMICK – CLARKSTON, 6-10½

McCormick earned top All-State honors from the Detroit Free Press, the Detroit News, and the Associated Press. Averaged 24.7 points and 17.6 rebounds per game as a senior. Named to Parade Magazine All-American second teams as a senior.

M.C. "Tony" Burton III – Grand Rapids Catholic Central
The son of former Muskegon Heights and University of Michigan star M.C. Burton, the 6-6 Burton was selected as a 1st team Class B selection by AP and the Free Press and earned Dream Team status from the News.

Randy Morrison – Olivet
Earned All-State honors in both his junior and senior season at Class C Olivet. Scored 479 points in 14 games.

Anthony Scott – Grand Rapids Creston
6-4 forward, averaged 22 points and 13 rebounds a game as a senior.
1973-74
TONY SMITH – SAGINAW, 6-2.
Pegged as one of the most exciting performers to come along in a long time, Smith averaged 23.3 points a game, hitting highs of 38 points twice in '74. Finished career with 1,287 points. Able to hit consistently from 25 feet out. "He's got more ability than anybody I've seen in the backcourt," said his high school coach Charlie Cole at the time. Excellent at hitting the open man, he averaged nine assists and was a great leader on the floor. Nephew of Saginaw legend, Ernie Thompson. Recruited heavily, he chose University of Houston, then transferred to UNLV after his freshman year.
Turono Anderson – Detroit Kettering, 6-3.
Won the PSL scoring crown as a senior. Posted a school record 42 points in the state tournament. Able to operate inside and outside. Averaged 25.7 points plus 16 rebounds a game.
Jeff Tropf – Holt, 6-7.
Led Holt to an 27-1 season, finishing as Class B runner-up. Ended his prep career with a total of 1,470 points including 48 in one game.
John Long – Romulus, 6-5.
Blessed with size, speed and a fine outside shot, Long averaged 23-points-per-game as a senior. "Great performer under pressure," he scored a career high 46 in the tournament. Totaled 1,557 points in 64 games for a career average of 24.3. Earned AP All-State honors as a both a junior and senior.
Cyrus Mann – Detroit Southeastern, 6-9.
"Could step in a play for any school in the country as a freshman," noted one college recruiter. Quick, despite his size, he scored at a 19.9 clip with 16 rebounds and six blocked shots a game.
Terry Tyler - Detroit Northwestern, 6-7.
"Hot blocker extraordinaire who demoralized opponents with his devastating defensive talents," stated the Detroit News.. "Led Northwestern to a 20-0 record, prior to being upset by Highland Park in the opening round of the districts. Pulled down 17 boards, averaged 16 points and 8 blocks a game. Wasn't unusual to swat down 10 or 12 in a contest."
1972-73
TOM LAGARDE – DETROIT CATHOLIC CENTRAL, 6-11

UPI Prep Player of the Year. Great coordination and mobility for his size with a good turn-around jumper. "Had a 25-point per game average that could have gone into the 30s if he had chosen to shoot more," stated the Detroit Free Press when they announced their All State selections in 1973. Played for Dean Smith at North Carolina, then spent six years in the NBA. A member of the 1976 gold medal Olympic team.
Johnny Davis – Detroit Murray Wright, 6-1
First team pick of the Detroit Free Press and Detroit News. Extremely difficult to defend. Great outside shooter, Davis was considered by many observers as the finest shooter in the state. "After scoring 27 points a game as a junior, he averaged 31 points as a senior," noted the News. Played at Dayton, and then spent 10 years in the NBA.
Bob Elliott – Ann Arbor Pioneer, 6-9, 220
A Dream Team selection in the Detroit News as a junior, (he earned second team honors in the Free Press), Elliot earned top honor from both Detroit papers as a senior. The leading vote getter on the UPI All State team in 1973, he "almost single-handedly made the Pioneers a season-long power. " Averaged 28-points per game as he led the team to an unbeaten record in the regular season and a 24-1 mark overall. Played collegiately at the University of Arizona, followed by three seasons in the NBA.
Mark Veenstra – Hudsonville Unity Christian, 6-8, 194
Despite playing with a swollen ankle, Veenstra scored 112 points in three regional tournament games as a senior. He tallied 34 points in the state final to finish with 862 points over 28 games, the most in the state in 1973, and totaled 1,951 points in his career. Considered one of the best players to come out of Western Michigan since Chet Walker, he turned away many offers from top tier basketball programs and chose to attend Calvin College to pursue a medical degree.
Edgar Wilson – Dowagiac, 6-5, 190
Only player to be named to the Detroit Free Press first team in both football and basketball, Wilson averaged 26.7 points and 15.5 rebounds per game as a senior. Received 150 scholarship offers, he chose to played college ball at Michigan State. Following graduation, Wilson served as an assistant at MSU and Central Michigan, then was named head basketball coach at Ferris State in 1996.

1971-72
LARRY FOGLE – DETROIT COOLEY, 6-5, 210.


Banged in a career total of 1,662 points and averaged 38.5 points a game his senior year. Hauled down 18-20 rebounds per contest. Quick, strong and equally effective as far out as 15-18 feet. Scored 73 points in a game with Detroit Cody. Led Cooley's state tournament run to the semifinals. Scored 24 points in the second quarter against Ferndale in the regional final. Named United Press International Player of the Year in Michigan. Listed by Letterman Magazine as "one of the top 30 high school players in the nation", by Scholastic Magazine as one of the nation's Top 40 and was named to Parade Magazine's All-American second team.
Wayman Britt – Flint Northern, 6-1½, 185.
Only regular who returned from Northern's 1971 Class A state champions, Britt led the Vikings to their second straight Class A title. Gave Northern's attack confidence and poise. "He was our leader…our clutch performer…the guy we turned to," said Northern coach Bill Frieder in the Detroit Free Press. Averaged 13.2 points per contest and led the team with 151 assists. Later played basketball at the University of Michigan and briefly in the NBA.
Jessie Campbell – Stockbridge, 6-9.
Only returning starter from Stockbridge's Class C runner-up squad. Averaged 28.9 points and 31 rebounds per contest as a senior. Finished with 1,490 points and 1,586 rebounds during his four year career. Led the Panthers to a 59-6 mark over the previous three years.
Paul Griffin – Shelby, 6-9, 200.
Averaged 30 points and 28 rebounds per game while leading Shelby to its second consecutive Class C title. According to the Associated Press, "proved himself on the tournament trail." Played college ball at Western Michigan University, then enjoyed a seven-year career in the NBA.
Robert "Bubbles" Hawkins – Detroit Pershing, 6-2, 185.
Led Pershing to a Public School League title. "A great floor leader who passed up many baskets to feed off to a teammate," noted the Detroit Free Press. Averaged 28 points per game, 12 rebounds and 12 assists over a three year career. "Hawkins is considered the finest natural athlete in the Detroit Area" stated the AP. Named 1st All-American by Parade Magazine. Played at Illinois State then part of four seasons in the NBA.
Leighton Moulton – River Rouge, 6-3½, 181.
Key player on a lean Rouge team. "A deadly shooter with a soft shot, he was quick and equally effective on defense," noted Hal Schram in the Free Press. Led Rouge to a come-from-behind victory over Muskegon Heights in the state championship game. Averaged 22 points per game during the regular season. According to the AP, "A severe leg injury hampered him in the tournament, but that didn't stop him from hitting 30 points in the semifinal triumph over Elkton-Pigeon-Bay Port, and 24 in the finals victory. Played college ball at Dayton.
1970-71
"CAMPY" RUSSELL – PONTIAC CENTRAL, 18, 6-7, 190.


All-state as a junior and senior, Russell totaled 1,454 points in his three-year prep career. Hailed at the time by his future University of Michigan coach, Johnny Orr, as the "best offensive high school player in the country." Earned 1st team All-America honors from Parade Magazine.
Eartha Faust – Inkster, 17, 6-3, 170.
According to the Detroit News, who named Faust to their Class B All-State squad: "Totalled 711 points as he made good on 58.4 percent of his shots from the field and 82.5 from the free throw line. Inkster bowed in the regional finals to River Rouge. Rouge held him to 26 points, one of only six times he scored less than 30 points." Played college ball at Vincennes Junior College and West Virginia.
Lindsay Hairston – Detroit Kettering, 17, 6-9, 200.
Grew an inch and added 10 pounds after being named to All-State teams as a junior, Hairston became even more formidable under the boards, blocking an average of five shots a game. He averaged 21.2 rebounds and 23.5 points per contest, finishing his three-year prep career with 1,390 points. Played college ball at Michigan State.
Tom Kangas – Escanaba, 18, 6-4, 195.
A four-year veteran with a career total of 1,190 points. Broke Great Northern Conference records previously established by Menominee's Pat Miller, (who later played at Michigan State). Averaged 27.1 points a game.
Tom McGill – Flint Northern, 18, 6-3, 185.
Totaled 1,038 points, averaging 22.9 points and 14 rebounds a game. Scored 24 points in the Class A championship game to finish with 553 for the season.
1969-70
RICK DREWITZ – GARDEN CITY WEST


Averaged 29 points a game, the 6-7½ Drewitz scored 42 points in the Class A semifinals as West fell victim to Pontiac Central and Campy Russell, 84-79. Played his college ball at the University of Kentucky.

Dave Freeman – Battle Creek Central
A 60 percent shooter from the floor, Freeman averaged 20 points per game for the Bearcats.

George Kubiak – Carrollton
Top ballplayer for the Class B runner up. Averaged 25.5 points per game as a senior, scoring over 1,000 points in his two season with the varsity.

Larry Tatum – Muskegon
Shot .723 from the floor and averaged 24 points for the Big Reds.
1963-64
WILLIE BETTS - RIVER ROUGE, 6-5, 195.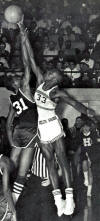 "Lost to the average fan is his exceptional defensive value," wrote Hal Schram at the time. A three sport star, Betts was named to the Free Press All-State squad for three consecutive years – a first. A top playmaker,amazing jumper and rebounder, he hauled in more than 1,100 rebounds in his career. Only player in MHSAA tournament history to play on four basketball state championship teams. Scored over 300 points as a senior, he set a Rouge career scoring mark with over 1,000 points.

Jim Bigham, Grosse Pointe St. Paul, 5-9.
Considered by many as the top small man in the state. Scored 225 points in 23 starts, including 105 of 129 free throw attempts. Led his team to both the Catholic and City championships in 1963, and to the Catholic and Class C State championships in 1964. Twice named to Detroit News All-City team, he twice earned All-State honors and was a Catholic All-American in 1964.

Ralph Brisker, Hamtramck, 6-2, Sr.
The sharpshooting guard scored 570 points in 19 games for a 30 points-per-game average in leading the Cosmos to a share of the Twin Valley title. Set school game, season and career scoring records during his three years of play.

Pat Groleau, Nahma, 6-5.
Upper Peninsula's leading scorer with 634 points. Closed out his career with 1,877, scoring more than 40 points in three games. A unanimous first-team All-U.P. selection, he was named the peninsula's outstanding high school player.

Bruce Rodwan, Ferndale, 6-2.
Led Ferndale to the state championship in 1963 and was named to the all-tournament team, continued his fine play in 1964. "A strong rebounder, (304), the husky Rodwan scored 358 points with an average of 45 percent from the floor and a mark of more that 70 percent at the line."

Richard Schrumpf, Galien, 6-10.
Lead his team to 22 straight victories before falling in the state semi-finals in 1964. Averaged 25 points a game over a 20 game regular season, including a 55 point performance against Watervliet in his senior year. One of 100 named to Coach and Athlete magazine's Prep All-America basketball team.

1962-63
CRAIG DILL – SAGINAW ARTHUR HILL, 6-10, 198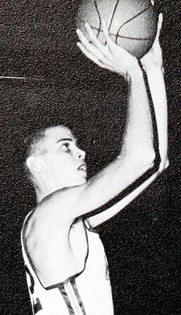 Scored 353 points in 12 league games, breaking Ernie Thompson's Saginaw Valley League scoring total of 314 points. Finished the years with 599 points over 21 games, including 30 or more in nine contests. Led the team to the state semifinals as a senior. Co-Captained the University of Michigan squad as a senior, then played for the Pittsburgh Pipers of the American Basketball Association.
Dennis Bankey – Detroit St. Thomas, 6-2, 175
Scored 1,536 points in his prep career, including 669 as a senior, he "could score from the outside as well as by driving through the middle for layups," according to his Detroit News All-State write-up. Played college ball at Michigan. In 1978, Bankey was named as one of the top six basketball players in Detroit Catholic League history.
Joe Johnson, Grand Rapids South, 6-4, 175
Scored 328 points and held a 13-rebouds per game average. According to the Detroit News, Johnson was "a unanimous choice of coaches for the Grand Rapids All-City team. He has good rebounding spring and strong reflexes under the basket"
Lovell Humes – Saginaw, 5-11, 167
"An excellent rebounder and can shoot from anywhere on the court," stated the Detroit News when naming their All-State team, Humes scored 379 points in 16 games, including 30 or more in five games during his senior year.
Bill Koski, Jr., Champion, 5-11, 162
The second-leading scorer in Upper Peninsula history at the time with 1,953 points. Netted 609 points for a 32.5 points-per –game average as a senior. Played college ball at Northern Michigan then became basketball coach at Republic High School.
Cliff Williams – Detroit Southwestern, 6-3, 181
Scored a total of 682 points in 19 games. Set a Detroit Public School League single game scoring record with 61 points in a 86-60 win over Detroit Chadsey on February 13, 1963. In announcing William's selection to their all-state team, the Detroit News said, "has an uncanny jump shot from the side and can sink his shots from as far back as midcourt." Attended Bowling Green.

1961-62
ERNIE THOMPSON – SAGINAW, 6-3, 187.


"The finest all-around basketball player I've seen in 27 years of coaching," said Saginaw coach Larry Laeding, at the time. "He's as good a defensive rebounder I've ever seen in high school, averaging 18 rebounds a game. He also blocks many shots on defense." Set a Saginaw Valley League record with 314 points in 12 games, topping Milt Mead's total of 269 set in 1950 during his days at Bay City Central. Established new MHSAA state final records of 42 points and 27 rebounds in the Trojan's Class A championship victory over Benton Harbor. Fifty years later, the rebound record still stands.

Bill Curtis – Grand Rapids South, 6-3
Averaged 18 points per game in 12 city-league games, and finished with 261 points for the year. Excelled both in the backcourt and on the boards for South. Curtis was considered the best player for all-around ability in the Grand Rapids area. Later played at Michigan State.
Oliver Darden – Detroit Western, 6-6½, 205.
Scored 367 points in 14 games for a 26 point average. Detroit's most sought after college prospect. A four-sport letterman as a first baseman, end in football and high-jumper in track. Later played at the University of Michigan and in the ABA.
Ken Wilburn – River Rouge, 6-4, 172.
Despite missing three regular-season games, he finished with 218, then added 158 during the tournament during Rouge's march to the state Class B title. An exceptional rebounder, his 276 boards led "to the team's fast break which no Michigan team could stop this season," according to his Detroit News All-state write-up. Accurate jump shot and outstanding on defense.
1960-61
REGGIE HARDING – DETROIT EASTERN, 6-11½, 235.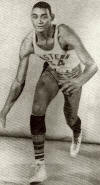 Only repeater on the Detroit News All-State squad. Blessed with exceptional mobility, Harding "scored 407 points in 14 games this season, averaging 29.1 per game. His three-year output was 1,079 or 25.2 per game. Board control was Harding's great asset. He had 330 rebounds of which almost two-thirds were on defense. He also blocked numerous shots and picked off many passes while pressing and converted them into quick scores." Later played in the NBA with the Detroit Pistons and Chicago Bulls.
Tim Bullock – Marquette Graveraet, 18, 6-0, 168.
A three-year standout, Bullock earned first-team Class B All-State honors from the Detroit Free Press. Scored 1,033 points during his 50-game career. Also earned All-State honors in football. Following graduation he played four-years of basketball at Northern Michigan University, then coached high school basketball teams at Republic and Sault Ste. Marie.
Bobby Joe Hill – Highland Park, 17, 5-9, 150.
"Has been the most amazing dribbler and ball handler in Detroit suburbs this year," wrote the Detroit News after naming Hill to their Class A All-State team. "Exceptional on defense, halting fast breaks and stealing on presses…Bobby has scored 423 points for an average of 20.2 per game. While outstanding all season, he has been particularly brilliant since January when he took up the scoring slack of two graduates." Was a member of the 1965-66 Texas Western squad that defeated Kentucky to win the NCAA title.
Jim Manning – Trout Creek, 18, 6-1, 190.
Manning piled up 757 points in 22 contests for an incredible 34.4 average. Totaled 2,137 points during his four-seasons of high school ball. "Manning had it all," former Ewen-Trout Creek boys' coach Tom Caudill recalled. "He was only about 6-foot-1 but could really get up, up in the air. And he had all the moves, inside or outside."
Larry Tregoning – Ferndale, 18, 6-4, 180.
According to the Free Press, "most probable collegiate star on either peninsula. Played every position for Ferndale and owned a tremendous outside shot." Three-year letterman at the Unversity of Michigan.
1959-60
PETE GENT – BANGOR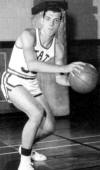 "Accumulated a 22.6 scoring average shooting with either hand," noted Hal Schram in his Free Press All-State write-up. The 6-2 Gent scored 21 as Bangor knocked off top-ranked Grand Rapids Lee, 57-45 for the Class C state title. Played college ball at Michigan State where he led the team in scoring three consecutive seasons. An author, he penned several books, including "North Dallas Forty" following a pro career in the NFL.

Bill Chmielewski – Detroit Redeemer
Standing 6-10, Chmielewski averaged 23.4 points and 18 rebounds per game for the Class B state champs. A 4th team Parade Magazine All-American. Later played at Dayton.

Doug Herner - Lansing Sexton
Member of the 1959 and 1960 Class A state champions. Scored 290 points in 22 games as a senior.

Fred Thomann – Taylor Center
Scored 415 points in 19 games for a 21.9 average. Earned MVP honors at Michigan State. Guided Willow Run High School to the MHSAA Class B state basketball championship in 1968.
1953-54
PETE TILLOTSON, LUDINGTON, 6-6
Scored 1,176 in his high school career, including 564 during his senior season, with most of his field goals from out on the floor. A Parade magazine fourth-team All-America selection. "Referred to as the 'Gentle Giant,' because of the ease in which he tossed the ball through the basket," said George Maskin in the Detroit Times, he was the spark of three great teams in a row at Ludington – quintets which have brought the Orioles the North-Central B league title annually since 1952 and earned them a spot in the 1953 state finals against St. Joseph.

George "Baby" Duncan, Highland Park
Four-year regular. A repeat selection on both the Free Press and Times teams. Scored 280 points in 15 games on a team with two All-State selections (Junior/Senior George Lee was the second) "An excellent dribbler, passer and team player," said the Detroit News. Set the school single game scoring record with 43 in a ballgame.

Gary Giffen, Bay City Central
Leading vote-getter on the Saginaw Valley all-conference team. Scored 300 points (119 field goals and 62 free throws) in 15 regular season games.
Art Gowens, Lansing Sexton, 6-1, Jr/Sr.
Called the best player in Sexton history, Gowens "is a terrific man under the boards, even thought pitted frequently against players two to four inches taller. Set a Sexton regular season scoring mark with 264 points.

George Lee, Highland Park 6-4, 205, Jr/Sr.
Like Gowens, a mid-year 1955 grad. Center for the Parkers. Scored 283 points in the regular season on hooks and jumpers. According to coaches and sportswriters, a better one-two punch than Duncan and Lee would be hard to find.
1952-53
RON KRAMER, EAST DETROIT, 6-4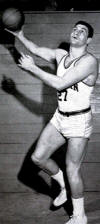 Earned nine varsity letters at East Detroit. A first team All-State selection in the Detroit News and Detroit Times, Kramer earned second team all-state honors in the Detroit Free Press. "Averaged better than 27 points per game in leading his team to the Eastern Michigan title," according to the Times, scoring 370 points during the regular season, and "adding 100 more during the tournament." Later named the University of Michigan basketball MVP for three straight seasons.

Dean VanderWal – Holland, 6-3½, 185
Towering, rugged and a consistent scorer. VanderWal tallied a school-record 374 points for the Dutchmen. Later attended Michigan State.
Tom Klewicki – Lansing Sexton, 5-7, 142
First team selection by all three Detroit papers. Set school individual scoring record with 330 points. Led the Big Reds to 20 straight victories before losing to Dearborn Fordson in the tournament.
Leland "Lee" Ayotte, Alpena Catholic Central,
First team Class B selection of the Free Press, News and Times as a senior. Also named by the Free Press and News to their honorary All State team as a junior. "Drew acclaim from critics as perhaps the finest cager ever produced in the northeastern sector of the Lower Peninsula. During his four-year career, one year at Alpena St Anne and three at Catholic Central, Ayotte amassed 1,099 points, excluding tournament competition. " Later played at Notre Dame, the alma mater of his high school coach.
Joe Roberson, Flint Northern, 6-5
Two-time All-Valley selection. Named to the All-State first team by the Detroit Free Press and the Times. A hookshot specialist, Roberson was the first Flint player to lead the Saginaw Valley conference in scoring in 16 years. Averaged 20.7 points per game as a senior. Top-notch baseball prospect. Signed with the Brooklyn Dodgers organization and later served as Athletic Director at the University of Michigan.

1951-52
FRANK TANANA – DETROIT ST. ANDREW, 6-2, 203.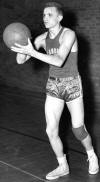 Twice named to the Detroit Times and Detroit News All-State team. According to the News, "…probably the standout in any class, His generalship and all-around ability were big factors as St. Andrew went through a second season without a loss." "He was the tournament's No. 1 topic," wrote Hal Schram in the Detroit Free Press following the finals, "and without doubt, the most valuable player to come out of this state in a decade."

Fred Corbus,St. Louis, 6-2.
The state's prep scoring king in 1952, Corbus totaled 406 points in 16 games for a 31.6 per game average. Scored 30 points in his team's 53-34 win over Algonac for the Class C title. The total was the tops in tournament history at the time, surpassing Russ Swaney's 27 points scored for
East Grand Rapids in 1950. Corbus later played at Western Michigan.
Dave Parks – Highland Park, 6-3½, 189.
Controlled the boards and was very effective in the pivot position, where he scored 291 points. Helped Highland Park to an unbeaten season by defeating Saginaw Arthur Hill for the Class A state championship.
Bill Stuifbergen – Kalamazoo Central, 6-2, 203.
Only returning regular on a Kalamazoo squad that won three straight Class A crowns. Overshadowed in the line-up by senior Ron Jackson a year earlier, Stuifbergen "picked up
Jackson's scoring and defensive load this year." Finished with 323 points on the year. An all-around athlete, he also earned All-State honors in football. Played three years of minor league baseball, then served as a coach at Lansing Sexton and Kalamazoo Loy Norrix high schools.
Terry Thompson – Ishpeming, 6-3.
The only repeater on the Free Press All-State first team, Thompson led Ishpeming to the semifinals of the state tournament in 1952. Averaged 24.8 points for the state quarterfinalists. Pivot shot left most opponents helpless. Established a career scoring mark at Ishpeming. Played
one year at Ball State, then returned to the Upper Peninsula to play at Michigan Tech.
1950-51
WEBSTER KIRKSEY – SAGINAW, 17, 5-10, 148.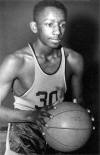 According to the Detroit Free Press, "The hustling Kirkesy could out-jump many six-footers when he uncoiled." Piled up 298 points in 15 games for Saginaw, earning first-team All-State honors from the Free Press, Detroit News and Detroit Times. Following a Hall of Fame career at Michigan Normal College (now Eastern Michigan University). Kirksey played professionally with the Harlem Globetrotters and the Goose Tatum Harlem Roadkings.
Jerry Armstrong – Port Huron, 6-6
Led Big Reds to the MHSAA state finals in 1950, his junior year. Averaged nearly 20 points per game before the team was upset by Grosse Pointe in the regional round of the 1951 tournament.
Ron Jackson – Kalamazoo Central, 17, 6-5, 207.
Lone holdover from Kalamazoo's title team of 1950, he scored 269 points in 15 games. Controlled both backboards as the Maroons Giants picked up their third consecutive Class A title.
Esmo Woods – Pontiac Central, 18, 6-2, 165.
Woods poured in 220 points in 15 games as a senior. "Kept Pontiac in the thick of the Saginaw Valley race after his running mate, Ty Sparrow, graduated at mid-term," noted the Free Press when honoring Woods with a spot on their first-team All-State squad.
1949-50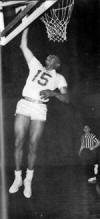 CHARLIE PRIMAS – DETROIT MILLER
A three-year veteran for coach Will Robinson's Trojans, the 6-2 Primas earned top All-State recognition from the Detroit Times, the Free Press and the News as a senior. He led Miller to two consecutive Metropolitan League titles. Played college ball at Wayne State.

Milton Mead – Bay City Central
Established a new Saginaw Valley League scoring mark with 269 points in 12 contests. Played at the University of Michigan.

Jim Plecas – Detroit Catholic Central
Three-letter winner, established a new Parochial League record as a senior with 232 points in 12 games. Led Catholic Central to the Class A semifinal round of the tournament in 1950. Attended Yale.

Art Spoelstra – Grand Rapids Godwin
Top player in the Grand Valley League, the 6-8 center received 1st team All-State kudos from the Detroit News and the Detroit Times, and second team honors from the Free Press. Led Godwin to the Class B state semifinals in 1949, and the finals in 1950, where the unbeaten Wolverines were upset by Ishpeming. Attended Western Kentucky, then played in the NBA.

1943-44
DICK RIFENBURG – SAGINAW ARTHUR HILL


"Veteran basketball observers after watching Rifenburg perform in the semifinals and finals tagged his as one of the greatest performers in tournament history," wrote Bob Latshaw in the Free Press on Monday following the tournament stated, Rifenburg ended the year with 352 points scoring 24 in the Lumberjacks' Class A state title win over Kalamazoo Centra - the first basketball title in school history. "A great shot from the pivot post. Greatest asset is getting up off the floor and controlling the ball off the backboards."

Donald Groggel – Kalamazoo Central
Fine guard and a great competitor, Groggel also played football and baseball for the Maroon Giants. Central's high scorer on the year, his sparkling efforts and consistent scoring carried Central throught the MHSAA tournament to the state finals.

John Rakoczy – Orchard Lake St. Mary
Unanimous choice for the Detroit Times All-City Parish team. Alone, Rakoczy contributed 331 points, 253 of them in league play, for a 19 per game average at St. Mary rolled to a perfect 17-0 season. He also established and all-time high for a single game - 54 points. An excellent floor man in addition to his scoring prowess, the combination gave the Eaglets a force that opponents found hard to cope with. Later served as coach at St. Mary.

Jack Weisenburger, Muskegon Heights
A football, basketball and baseball star, Weisenburger served as team captain on each squad in his senior year of high school. Named to the All-Southwestern team, Weisenburger also earned second team all-conference honors in football.

Dick Hall – Detroit Mackenzie
Poison in the scoring zone with a deadly pivot shot. Earned All-City honors.
1942-43
DON BOVEN – KALAMAZOO CENTRAL, 6-3


"A great retriever of rebounds," noted the Kalamazoo Gazette when naming him to the All-City team. Moved from forward to the center position in mid-season and led the Maroons to a tie for the Southwestern Class A conference championship. Named to the all-conference team, Boven played college ball at Western Michigan College, where he earned first-team All-American honors in 1949. Later played NBA Basketball in Waterloo, Milwaukee and Fort Wayne. He returned to Western following his professional playing days, first as an instructor, then as their head basketball coach.
Art Bakeraitis – Bay City Central, 6-4, 210
A three-sport star, Bakeraitis was the only unanimous selection of the 13 member board of coaches and newspaper writers that named the Saginaw Valley all-conference basketball team. Later played for the Detroit Vagabond Kings of the NBL he was a first year inductee into the Bay County Hall of Fame.
Dan Boisture – Detroit Holy Redeemer, 6-1
Standing 6-1, "the curly-haired sharp shooter" was called as one of the best forwards in the state by the Detroit Free Press when they named him captain of their All-Catholic League team. Later became head football coach at Eastern Michigan.
Eddie Johnson – Saginaw
Topped the Saginaw Valley league scoring record by 41 points in his senior year, posting 196 points over 12 league games. Honored with selection to the Saginaw Valley All-Conference team.
Bob Hahn – Ann Arbor, 6-9½
The top ballplayer at Ann Arbor High, Hahn was a steady rebounder and top scoring threat for the Pioneers. Too tall to get in the service, he played for a year in the Ann Arbor Industrial League while working for a war plant, before heading off to college. Hahn lettered in 1947, 1948 and 1949 at North Carolina State for legendary coach Everett Case, who had served in the navy with Hahn's high school coach, Al Shaw. He later played briefly with the Chicago Stags of the National Basketball League.

1941-42
LARRY SAVAGE – SAGINAW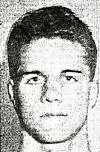 A major contributor to Saginaw's rise to the state Class A championship. Leader of the Saginaw Valley Conference in scoring, Savage was a unanimous All-Valley team selection and a Detroit Free Press All-State selection. Scored 155 points in 12 league games, then chalked up 85 in six tournament contests. An all-around athlete, he was also one of the State's top fullbacks on the gridiron and considered an "excellent big league second-base project," according to the Free Press. Played football and baseball in college at Northwestern University. Longtime city manager of Traverse City.
Paul Bard – Muskegon, 6-0, 190.
Named captain of the Detroit Free Press All-State team, Bard was recognized for his hardworking style and cool leadership under pressure. Scored 88 points in 13 regular season contests, then 47 points in tournament play. Provided one of the all-time classic moments of state tournament history when, with four seconds left in the contest, he stole an inbounds pass, then let lose a one-handed shot from behind half court that went in to send the Class A championship game with Saginaw into overtime. A three-sport man, he also won letters in football and baseball.
Lynn Chandnois – Flint Central, 6-2, 185.
"Pivot artist who set an all-time scoring record for the Flint school and otherwise disported himself as a master of court technique," noted the Free Press. "Big, strong and hard-going, Lynn scored 23 points in two games, once against Saginaw's state champions. A fast, clever floor man, he won glowing accolades for his cage ability from practically every coach and official who saw him. He's a left-handed pivot man and an excellent foul shooter." A football All-American at Michigan State, he played seven seasons in the NFL for the Pittsburgh Steelers. A first-semester senior in the winter of 1942, he graduated mid-year in 1943, making him eligible for the 1942 Retro Mr. Basketball award.
Dillard Crocker – Niles, 6-2.
Provided the offensive punch in leading Niles to the MHSAA Class B championship. Didn't see varsity action until the fifth game of this team's regular schedule, yet still scored 203 points in 16 games. Tallied 20 points against Ecorse in the title game to give Niles its first State title in 20 years. Played basketball while in WWII service, then professionally from 1948 to 1953, including six seasons with early NBA teams. A first-semester senior in the winter of 1942.
Jack Scott – Hazel Park, 5-11.
A forward on an average Hazel Park team, scored 268 points in 14 games to set a scoring record for Southern Oakland County competition. According to the Free Press, he rated head and shoulders over all others in the Detroit Metropolitan area. Earned nine varsity letters. Solid baseball player, Scott was also considered an outstanding third baseman prospect.
1940-41
DON OSTERMAN – DETROIT ST. THERESA, FORWARD
Scored 221 points to lead St. Theresa to the state Class B title. A four-year veteran, he scored 705 points during his prep career. "Unusually fast for a big man, and probably the best player in the state under the backboards. Specializes in pivot shots and tip-ins" according to the Detroit Free Press.
Don Lund – Detroit Southeastern, Guard
At the time, the best all-around athlete seen in the Detroit City League in 10 years. A team player, Lund took few shots, scoring 78 points in 10 games, but excelled in setting up his higher-scoring teammates. "His cool aggressive floor play uncanny judgment under the backboards and fine sportsmanship made him one of the most valuable players in Michigan," stated the Free Press when announcing their All-State selections for 1941. A three-sports star, Lund enjoyed a seven-year career in baseball, logging time with the Brooklyn Dodgers, the St. Louis Browns and the Detroit Tigers.
Joey Smith – Detroit St. Theresa, Forward.
A first-team All-State selection by the Detroit Times. Paced St. Theresa to the Class B title with 16 points in a win over Sturgis. Scored 102 points during the 1941 season.
Dick Walterhouse – Ann Arbor, Forward.
"Lead the 5-A League in scoring for the second straight year with 91 points in eight games and made 176 points in 15 games all season," said the Free Press, "very fast player, a quick shot and an excellent ball handler."
1939-40
RALPH GIBERT – FLINT NORTHERN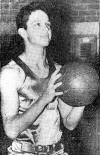 Honorary captain of the Free Press All-State team. An honor-roll student, he scored 101 points in 18 games as a senior. Led Northern to back-to-back Class A titles in 1939 and 1940. Played at the University of Michigan.

Roy Clark – Pontiac Central
According to the Detroit Free Press article covering the All-State team, "many persons considered Clark the best basketball player ever to play at Pontiac." Scored 206 points in 18 games.

Jack Fultz – Keego Harbor
Earned 11-letters during his high school career in basketball, football and track. Scored 287 points in 22 games for the Class C state runner-up squad. Outstanding passer.

1933-34
EARL BROWN, JR – BENTON HARBOR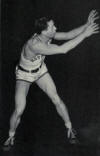 Great center and the top individual performer in the Southwestern Michigan Conference, Brown finished his senior year as the league's top scorer. Twice named to the All-Conference team he attended Notre Dame where he starred in both basketball and football. Today, he is still considered one of the university's greatest two-sport athletes.


Herman Fishman – Detroit Northern, 5-9
An outstanding multi-sport athlete, Fishman earned all-city honors in football and baseball. Named to multiple all-city squads in basketball in both his junior and senior seasons, he also captured the state tennis championship.

Eddie Payne – Grand Rapids Ottawa Hills, 5-8
A three-sport star, led the City League in scoring in both his junior and senior seasons, earning All-City honors in both years.

Victor Vanderburg – Kalamazoo State University
He was the key man in State High's attack and a much better than average defensive player. One of the school top athletes, he earned All-City honors in football and again in basketball.

1932-33
LINCOLN DODSON TRUSS – FLINT NORTHERN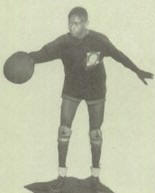 Blessed with outstanding jumping ability and defensive skills, Truss scored 139 points on the year, including a league-leading 103 points (42 field goals, 19 free throws) in Saginaw Valley Conference play. In the Class A state title game, Truss scored 12 points on six field goals to lead the Eskimos, as Northern was known at the time, to the championship with a 22-16 win over Grosse Pointe. He played in an era where, because of his skin color, his options on the athletic field after high school were severely limited.
Bill Barclay – Flint Northern
Brother of head coach Jim Barclay and captain of the Northern squad, Barclay tallied 72 points (28 FG, 16 FT) in Valley play earning all-conference honors. Following high school, Barclay earned eight varsity letters at the University of Michigan, before becoming an assistant football and basketball coach and the head golf coach at Michigan. In 1946, he was named head basketball coach at Harvard.
Marcel deBusschere – Detroit DeLaSalle, 6-3
Controlled the tipoff against all opponents, and was largely responsible for his team's undefeated record. Named to the Detroit Free Press and Detroit Times All-City Catholic cage teams. Father of NBA legend, Dave DeBusschere.
Henry Kovacs – Detroit Southwestern
Leading scorer in the Detroit Public School league, hitting 59 field goals and 26 foul shots for 144 points. According to the Detroit Times, Kovacs "stood out as the most consistent player of the year. He had the best eye for the basket in the city league, winning the individual scoring honors." Scored 21 points in one game. Later played at Western State Teachers Michigan (modern-day Western Michigan University).

Frank Lett - Battle Creek Central, 5-10
A four-sport letterman and the top athlete on the Battle Creek Enquirer and Evening News' All-City basketball team. "Has been a star during his entire school career," noted the newspaper at the time. Enrolled at the University of Michigan, Lett was allowed a spot on the school's football team but was barred from playing basketball. Michigan coach Franklin Cappon, explaining his decision said, "No other Big Ten school has used a colored boy, and I do not want to break the ice." Lett left the school in disgust in the spring of 1935
Leroy Muth – Kalamazoo St. Augustine
"Strong and rangy, a power on both offense and defense," stated Kalamazoo Gazette sports editor, Jerry Hagan at the time. "His was the steadying factor on the St. Augustine team that extended its state tournament record to 31 straight wins before losing its hold on the Michigan Class C crown in the 1933 semifinals at Lansing." Named to the Kalamazoo All-City team, he earned Player of the Year honors in Kalamazoo and was also named to an All-Regional tournament team.
1931-32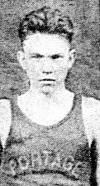 LOWELL MATTESON – PORTAGE
According to longtime Kalamazoo Gazette Sports Editor Jerry Hagan, the "sensational sharpshooting of Matteson, Portage forward in each game, was the talk of the Class D tournament." Matteson scored 36 points in the final three rounds of the Class D tournament to lead Portage to the Class D State Championship. Finished the year with 231 points in 23 games.

Wayne Cruce – Highland Park
Two-time All-City selection by multiple Detroit papers. "Called by many the best basketball player in the city," according to the Detroit Times. Served as captain of the Polar Bears. Rated a solid ball handler and passer, who made good use of pivot. Intercepted many opposing team passes.
Donald King Lewis – Mt. Pleasant
Finished with 148 points for the season, including 30 in the final three rounds of the state tournament. Singled out as "one of the great individual stars of the tournament." In Mt.
Pleasant's Class B championship victory over Niles, he scored 12 points on six field goals "thrown from all angles of the court for half of his team's points." Later attended the University of Michigan.
William Morris – Detroit Western
A 5-11, 160 pound guard. Two-time All-City selection, he was considered equally effective offensively as defensively. "A good ball handler with a keen eye for the basket," according to the Detroit Free Press. "Smart player under the basket and on rebounds. Has keen knowledge of the
game's fine points and fundamentals."
1930-31
EDWARD HUTTENGA – GRAND HAVEN, CENTER.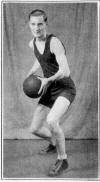 Considered one of the top, if not the top, center in the state. Played four years for Grand Haven, serving as Captain of the team in 1931. Although student enrollment classified Grand Haven in Class B, Huttenga and his teammates competed in the Southwestern Conference, comprised of Class A schools. After winning the league championship, coach Gus Cohrs opted to have the Buccaneers, who won the Class B championship in 1929, compete for the Class A state crown. His squad knocked off Battle Creek Central, Dearborn Fordson, then trounced Lansing Central, 31-15, in the title game to earn the crown. Huttenga, an All-Conference selection, later lettered at Western State Teachers College (now Western Michigan University).
Ford Moore – Detroit Southeastern.
"Possesses a world of speed and has a wonderful eye for the basket," noted the Detroit Times when announcing Moore's selection to their All-City squad. "He makes few mistakes during the game and can lead the play on the offense."
Charles Muth – Kalamazoo St. Augustine, Guard.
Scored 18 points in the state semifinals, and 12 points in the title game to lead the Irish to the second of three straight Class C state championships. The older of a pair of brothers (the other was named LeRoy) featured in coach Harve Freeman's famed "Rotary Offense". Later played at Michigan Agricultural College (now Michigan State University).
Frank Worzniak – Hamtramck, Forward.
Led the Cosmos to 14 victories in 15 starts. "Shifty fast and an excellent passer", stated the Detroit Free Press, "he also excels at basket shooting as attested by the fact that he rang up 69 points in league competition to capture high scoring honors in the city." In later years, Worzniak served as longtime coach at Hamtramck.
1929-30
JOHN TOOKER – KALAMAZOO ST. AUGUSTINE
Captain and center for coach Harv Freeman's Class C state champs. Dominated his position, and his ability to take the tip-off on nearly every occasion in the title game led to Augustine's 40-9 win over Lansing St. Mary in the title game. Also a state track champion.

Hank Ceasor – Port Huron
A top all-around athlete in Port Huron, Ceasor earned 1st team All-Tournament honors for the Class A quarterfinalists.

Emanuel Fishman – Detroit Northern
Known for his one-handed push shot, Fishman hit the game winner with 35 seconds remaining as the Eskimos defeated Kalamazoo Central 16-14 for the Class A state championship. (Detroit Public League schools dropped from MHSAA state tournament competition the following year, and didn't return until 1962.) Co-captain at Northern, he was considered the city league's outstanding performer for the season.

1923-24
BENNIE OOSTERBAAN - MUSKEGON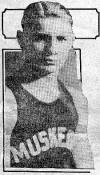 Named to football All-state first team in both 1923 and 1924 by Richard Remington of the Detroit News, Oosterbaan's reputation in prep circles soured when he lead Muskegon to the Class A state high school basketball championship as a junior in the spring of 1923. Invited to the University of Chicago National Interscholastic Tournament, Muskegon finished fourth in the event while Oosterbaan was named to the first team All-Tournament team.

Fred DenHerder – Grand Haven.
High point man with 236 of the team's 630 points. Won three varsity letters in both basketball and football. Constant work and capable leadership guided Grand Haven through a championship season. Selected to the Class B All-Tournament team.

Louis Gilbert – Kalamazoo Central.
Five "K" letterman (football, basketball, tennis, track and baseball) at Central, he captained the basketball squad, finishing the season at the team's leading scorer. An outstanding tennis player, we earned Midwest titles in both singles and doubles play at Ann Arbor. Later played football at Michigan, where he developed into one of the greatest punters in the nation.

Bo Molenda - Detroit Northeastern
Football, basketball and baseball star, Molenda began his high school playing days at Decatur High School in Illinois before the family moved to Detroit following his sophomore year. An All-State selection in football in both his junior and senior seasons, he was also named to All-City teams in both years in basketball. While Northeastern was eliminated in the early rounds of the state basketball tournament, the team did except an invitation to play in the Chicago National Interscholastic Tournament, finishing fourth. Molenda earned second team All-Tournament honors at Chicago.

1922-23
HENRY SCHRUMPF – NILES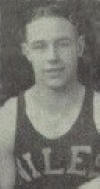 A calm, reliable leader, Schrumpf set a state final scoring mark with a 26-point performance (eight field goals and 10 of 12 from the free throw line) in the 1923 state title game against Alma. He finished his senior season with 285 points (103 field goals, 79 of 143 free throws). A three-sport star and captain of the basketball team at Western Normal College (today known as Western Michigan University), he later earned a baseball tryout with the White Sox, then returned to Michigan, serving as a basketball coach at Whitehall and Grand Rapids Creston.
Eddie Chambers – Niles
Made up for his lack of weight with speed and grittiness. Scored 134 points in 25 games. Became the University of Michigan basketball captain in 1927 then went on to a Hall of Fame career as high school coach at Crystal Falls. Chambers guided his cage teams to 312 wins, including 34 straight victories in 1938-39-40. His teams won 16 district titles in Class B, (12 consecutive from 1936-1947) six consecutive Upper Peninsula basketball championships 1938-1944 (there was no quarterfinal, semifinal or final round in the tournament in '43) and finished as U.P. runner-up in 1934, 1936 and 1937.
George Elias – Alma
Earned All-Tournament honors at both the Central Michigan Normal College tournament and at the State tournament, hosted one week later, where his team finished the season as state runner-up in Class B. Later played college ball at Western Michigan Normal College.
Elis Hartz – Holly
A speedy, diminutive forward, "who would dribble through the defense and shoot with deadly accuracy." Lead the 1922 and 1923 Holly teams to state Class C basketball championships. Named to the All-Tournament team in both seasons.
1921-22
ROYAL "RED" CHERRY – GRAND RAPIDS UNION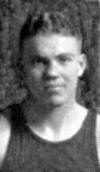 Led Union to a 27-9 win over Kalamazoo Central for the 1922 Class A crown. Received high accolades in tournament play and was a unanimous selection for first team All-Tournament honors at center. "Few high school men as capable as Cherry have ever taken part in a state tournament," stated an Ann Arbor News reporter at the time. "Combining speed with exceptional generalship, Cherry is one of the brightest prospects in years. Not only is a good basket shot and a competent free throw artist but he is also a general, who knows all phases of the game and handles his men in a capable manner." He later played at the University of Michigan.

Richard Doyle – Kalamazoo Central
Named to the Class A All-Tournament team. Played for Galesburg High School as a junior but attended high school at Kalamazoo Central in his senior year. Tall, husky, yet "fast on his feet", Doyle played guard and was a
considered a "bear on defense." A strong rebounder and an ideal guard, Doyle was especially strong in the opposing team's end of the court. "In every game he played he broke up play after play." Solid track man. Later became the first basketball All-American at the University of Michigan.

Harry Lee – Niles
Scored 203 points in 25 games. One of three players from Niles named to the Class B All-Tournament first team. Team finished as Class B State Champion in 1922 and would repeat in 1923. Lee would later earn four basketball letters while at Western Normal (now Western Michigan University.) Later became a high school coach at St. Joseph High School, where he led his 1946 Class B squad to the Class B state title.

James Scanlon – Negaunee
Helped lead Negaunee to the Upper Peninsula title and an entry in the State Tournament at Ann Arbor. While the team lost in their first round appearance to Kalamazoo, Negaunee emerged as the champion of the consolation series, earning third place honors in the tourney. Finished as the top individual point scorer in the tournament, "caging 22 field baskets in the four games he played." Strong on defense as well, Scanlon earn a first-team spot on the All-Tournament squad. Played the first semester of the 1922-23 season, but was a mid-year graduate, making him ineligible for the state tournament in 1923. Hence he was considered for the 1922 award.
1920-21
GEORGE HAGGARTY – YPSILANTI, FORWARD.


A second-team All-Tournament selection for his efforts in the Class A state basketball event, hosted at Michigan Agricultural College (now Michigan State University). In the spring of 1921, Haggerty also grabbed track titles in the 120-yard 42" hurdles and the 220-yard 30" low hurdles. Lettered in basketball in 1923, 1924 and 1925 at the University of Michigan.

F. Monihan – Detroit Northern, Guard.
A near unanimous choice at guard on the Class A All-Tournament team, Monihan led Northern to runner-up honors in the M.A.C. tournament.
Harley Catherman – Farmington, Guard.
All-Tournament selection in the Class B tourney held at the University of Michigan. Catherman worked as a coach and a counselor at Detroit Mackenzie High School for many years. Played football and baseball at Alma College where he was recognized with Hall of Fame honors.
1919-20
HARRY KIPKE – LANSING CENTRAL


A 12-letterwinner, including three in basketball, Kipke served as captain and guard in his senior year. Was honored on the All-Tournament team when his team advanced to the semifinal round of the Class A tourney. Later played and coached at the University of Michigan.


Bruno Smokiewicz – Detroit Northwestern
Starred for Coach Bert Maris on league championship teams in 1919 and 1920, state title squads in 1917 and 1920, and a state runner-up in 1919. Named to the 1920 All-Tournament team. Later played pro ball for ABL's Detroit Lions and the ABL's Detroit Pulaski Post.

William Springsteen – Detroit Northwestern
One of six Honorable Mention players on the 1919 All-Tournament team, Springsteen earned 1st team all-tournament team honors in 1920. Also All-State in football as a center in the fall of both 1918 and 1919. Played college football and basketball at Lehigh University in Bethlehem, PA. Played professionally for the Frankfort Yellow Jackets of the upstart National Football League in 1925-26.